HWDSB Featured Athlete of the Week – Morgan DeWeerd
Morgan is a senior athlete at our school and has significantly contributed to the Athletic program at Hamilton District Christian High. 
Although Morgan has participated in our basketball and volleyball programs, her ultimate passion is soccer.  Morgan has been a member of the varsity soccer team since grade 9, and she has become an integral part of the offence.  Morgan is a very skilled player who often uses her speed to win 50/50 balls, control the ball and set her teammates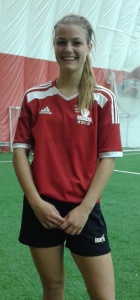 up for goals.
Morgan's positive attitude and incredible work ethic shows great leadership on the team and makes her a pleasure to work with.  She is very committed to the team and honours that commitment by showing up to every practice and game, working hard and exhibiting great team spirit.  Perhaps two of Morgan's greatest characteristics are the humility and sportsmanship with which she plays.  It is obvious that she just loves to play, and she works hard to make others shine around her.
Thanks for your great work, Morgan.  Keep it up!
Source: HWDSB